For a few years now my girlfriend and I have been trying to plan a trip to Vegas to see the Britney Spears show (yes listening to Britney is one of my guilty pleasures). We are both on a tight budget so it had to be on the cheap.
I was stalking Southwest and finally saw a fare low enough that would fit the budget, $80 each way! Southwest changes their prices all the time so I just kept going on the website every couple of days and caught when they were having a super sale. Yay we had a date and tickets in our hands.
Hotel – Flamingo
I've stayed here a few times. I'm a part of the Total Rewards program so we were able to get a great price on the room, would have been an awesome price if I had my husband with since he had all our previous points under his name. I ended up opening up my own account to take advantage of the member pricing. After searching all the hotel comparison sites, the member pricing was still the best. The room itself was very nice, the hotel lobby was quite a mess and dumpy. It looks like they are in the middle of a remodel so was a bit of a disappointment. The bell desk was a makeshift desk and there were construction materials all over.  We were in one of the Go Deluxe rooms that were just remodeled so everything looked pretty new and very clean. I can't believe I forgot to take a photo of the room! We were on the 24th floor so the room had a real nice view of the high roller with the mountains in the background.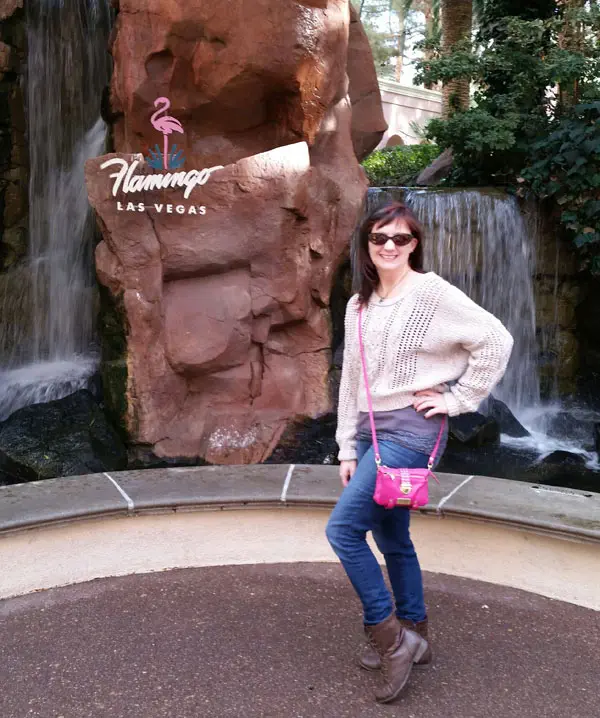 Our plane landed around 8am (yes one reason it was a cheap flight) so we had the entire day to check everything out. Once we checked our bags with the bell guy we headed down the strip to Mandalay Bay to see Shark Reef. The weather was wonderful! We left Chicago around 6am and it was -4 out, so the low 70's and sunshine was such a treat! We were able to get our Shark Reef tickets for free through the MyVegas Facebook game. Normally tickets are $12-18. If you are heading to Vegas and like playing Facebook games I would recommend playing, there are lots of nice things you can get with your points.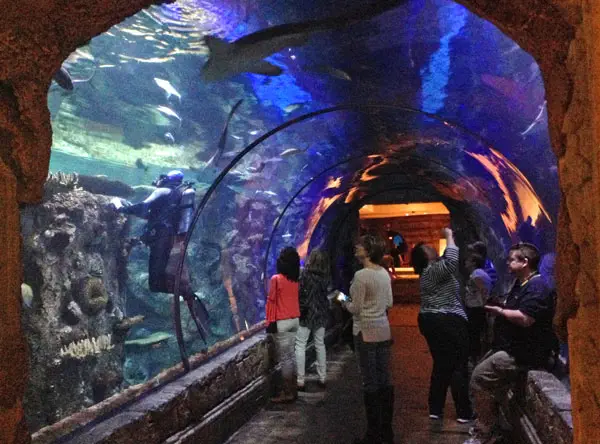 Shark Reef wasn't a big as I thought it was going to be but it was cool. Lots of animals/fish and nice scenery. Great place to go if you have your kids along. There is also a section where you can 'pet' stingrays and horseshoe crabs (photo below). There was one stingray that reminded me of my dog, he was so stinking cute. He loved attention and if you weren't petting him he would climb up the side wall and splash you until you petted him.
Britney show!!
After a short nap we headed over to watch Britney. The show was awesome! It wasn't as high energy as her concerts are but more of a theatrical performance. The sets, costumes and dancers are amazing! I really would love to go see it again because there was so much going on I know I missed seeing a few things. We ended up getting our tickets from Killerseats.com, this is another time that I keep checking the site and finally scored some for $40 plus fees. They were in the back but they were within budget 🙂 Face value on these tickets are anywhere from $70-$1200+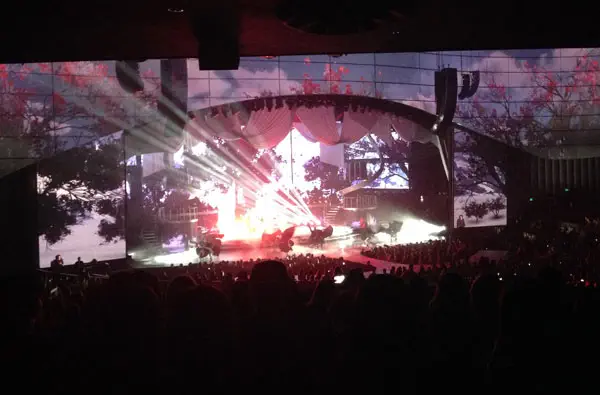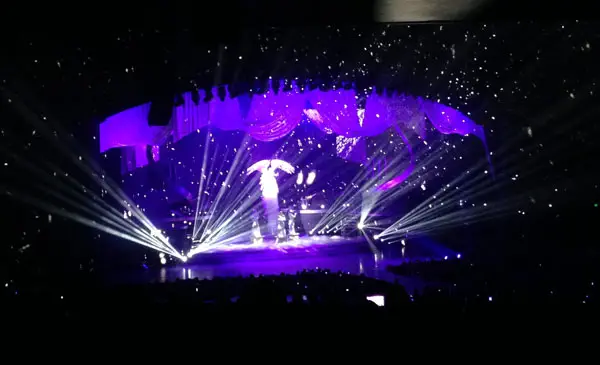 Nightclubs
You really can't go to Vegas without going to at least one club, and when I saw that Afrojack was DJing at Hakkasan I knew that had to be the one we went to. Earlier in the day we were walking through the MGM and found Anthony sitting at a desk right outside the club, we asked him what time Afrojack was going on and he put us on the guest list…score! So after Britney we had a quick bite at Chipotle (I'm always so thankful when I can find out of those!) and headed over to the club. It was probably around 11:30 when we got there and wow there was a line, we had to wait about 30 mins to get in and we almost didn't. The place was pretty packed and as we were coming in we heard that no more guys were allowed to enter. I've been a fan of Afrojack so I was really happy I could stay awake to see him (he didn't start until 1:30!). Drinks are expensive here so be prepared, my glass of crappy Chardonnay was $14 and they didn't even have any Pino Grigio. Overall Hakkasan was crowded inside but it wasn't terrible, you could still move around. We ended up going to Tao the next night and that was so packed we left there. If you plan on going to any of clubs try out Chris at Free Vegas Club Passes and get on the list. We ended up getting right to the front of the line at Tao. To bad that place was so crowed that we couldn't move and only stayed about 15 minutes.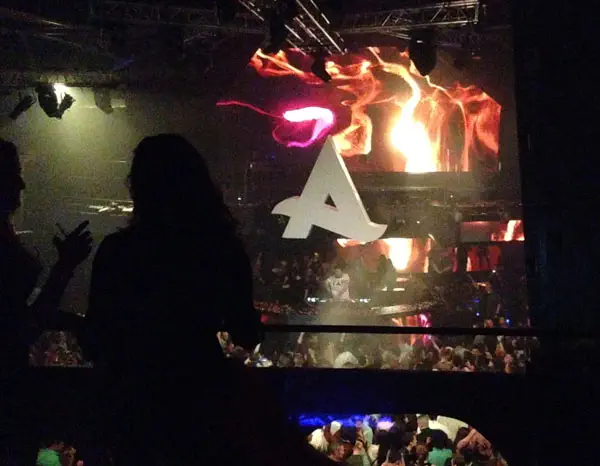 Restaurants
Vegas has SO many great food options, I knew there were a few different restaurants I wanted to visit. Giada is one of my favorite shows on The Food Network so I knew this one was a must see. I have made a few of her recipes and every one was yummy so I knew the restaurant had to be too. Everything in here was so pretty. We were here for lunch so I started with some marinated olives and then had a pancetta arugla salad, to drink I had a signature sangria. The olives were so tasty and the salad was like digging for treasure trying to find hidden fried pancetta pieces that were so yummy. I love that the menu has all the gluten-free options marked. I really wanted to go back for dinner on Sunday for dinner but we just ran out of time. Tip: use the open table app to make reservations.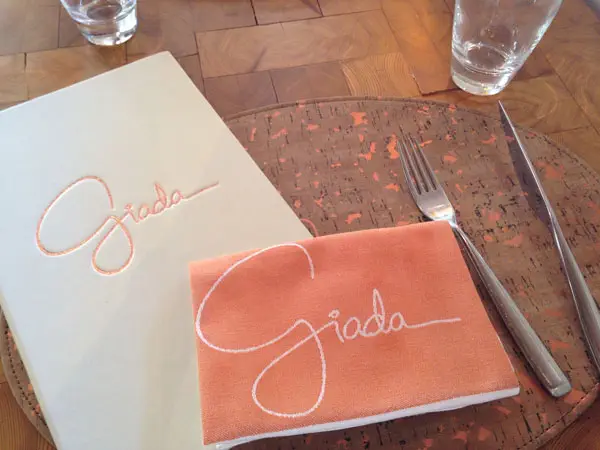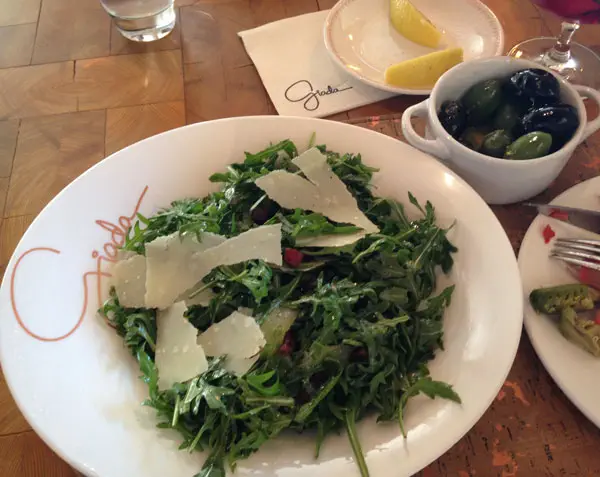 Cheesecake Factory
We stopped here while shopping inside Ceasars and they also have their menu marked with Gluten Free options. I ended up with the corn cake appetizer and it was good.
Gordon Ramsay's Burgr
Gordon is another one of my favorite chefs, so I had to at least get a snack at one of his places. We had a late night snack of fries, but these were not just any ordinary fries, these where Truffle Parmesan Fries. They were heavenly, and I paired them with a Veev acai berry cocktail that I really have to figure out how to make. Disclosure, I never confirmed that these were gluten free but they didn't bother me at all.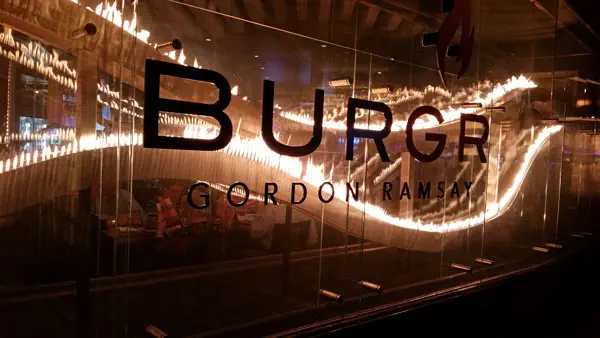 Mon Ami Gabi 
This restaurant is right outside of Paris (the entrance is inside). We had a table outside in the sunshine and it was a perfect place for lunch on our last day. They have an entire menu that is gluten free. I really wish I had more of an appetite to try one of the entrees because how often is it that we get so much of a choice! I ended up with a warm goat cheese salad that was delicious and the awesome part of this, I actually got an appetizer of gluten free bread! This is only the second restaurant I have even been to that serves gf bread.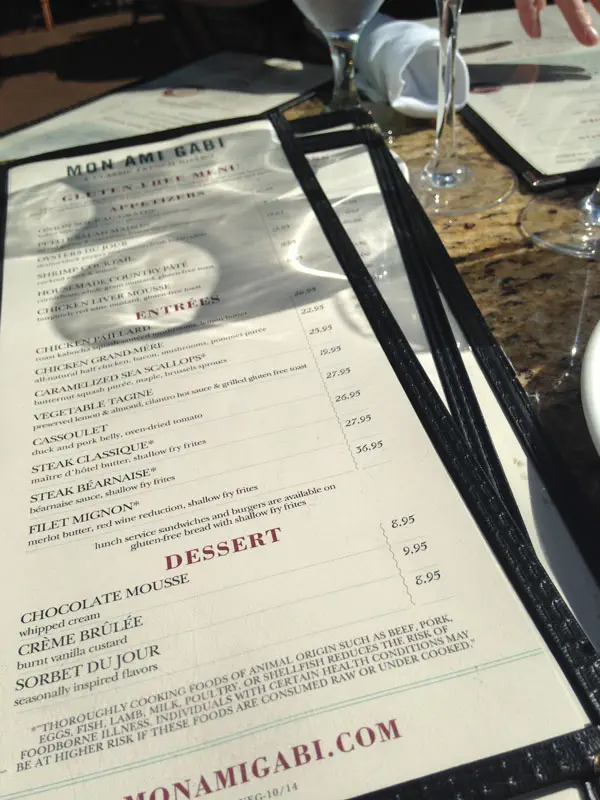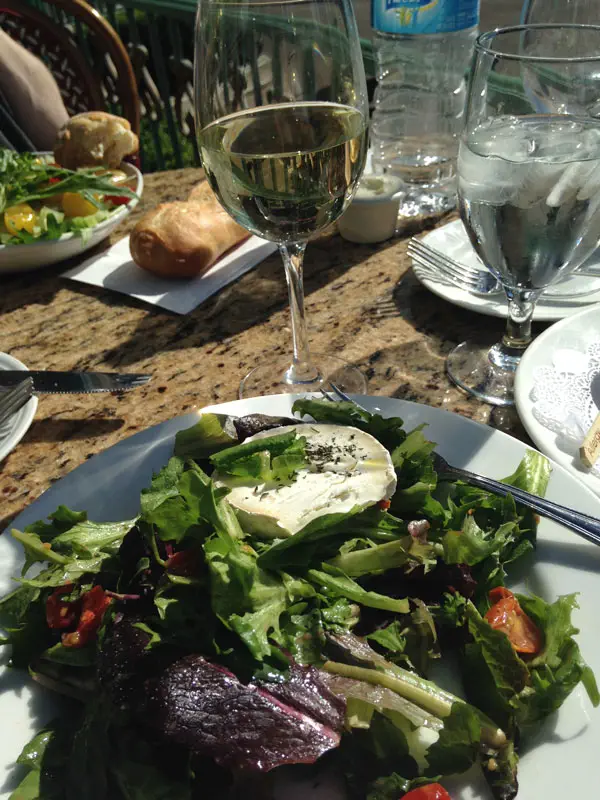 After lunch we stopped at the Bellagio to see the inside gardens and then of course the fountian.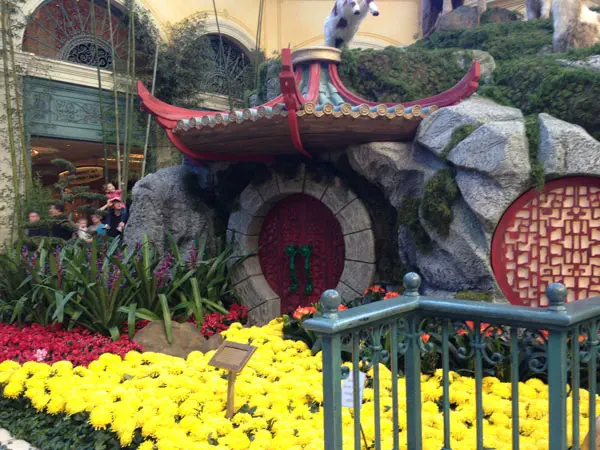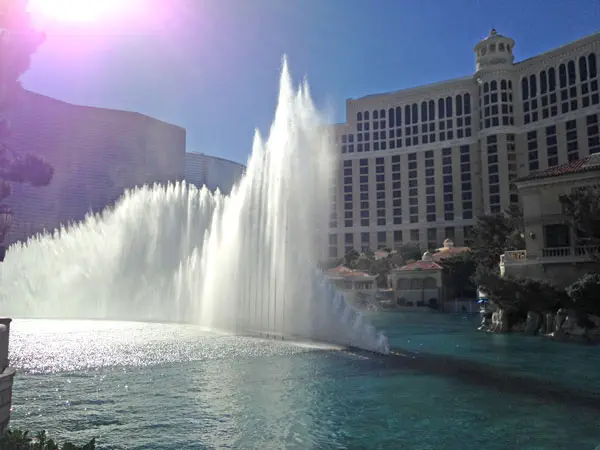 With only a few more hours left we walked around seeing a few more sites and then time for only last bite before we hopped on the plane back to the cold. We decided to stop by one of my favorite places, Dal Toro at the Venetian. I love it just because you can sit outside on the strip and people watch. Years ago I ate here with my husband and we watched the pirate show that was across the street at Treasure Island. I had some fresh mozzarella, basil and tomatoes.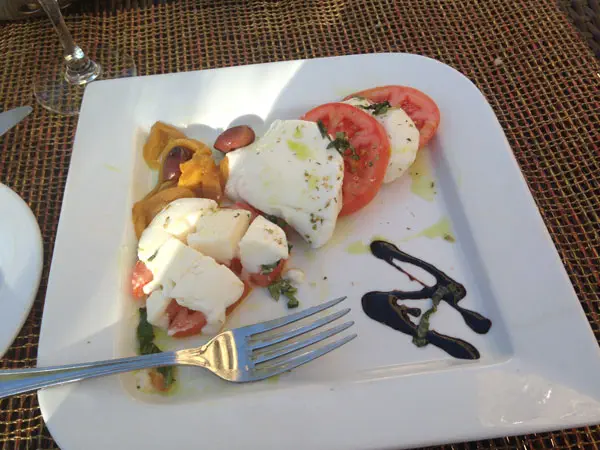 We had a few friends watch us while we were eating too 🙂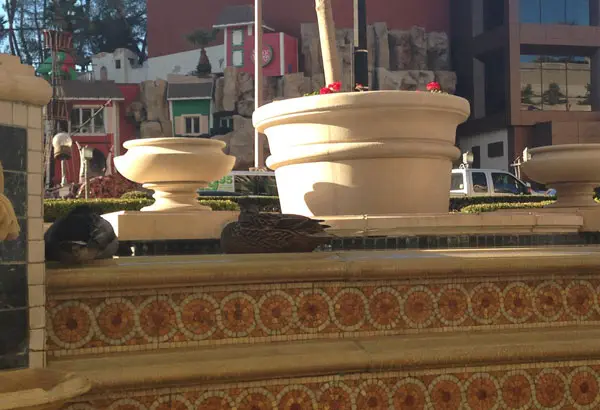 One last stroll through Paris and one last selfie before home to Chicago.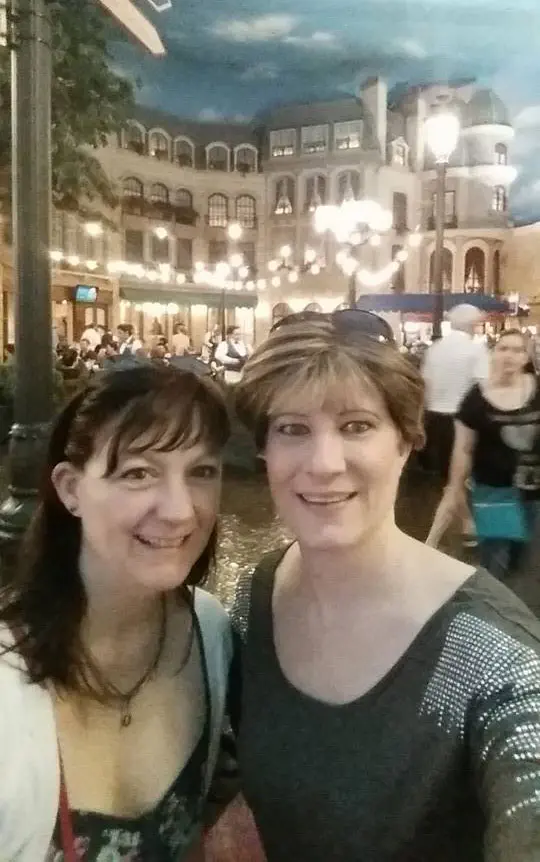 Vegas really does have something for everyone and it seems like lots of the restaurants have many gluten free options. I can't wait to go back again.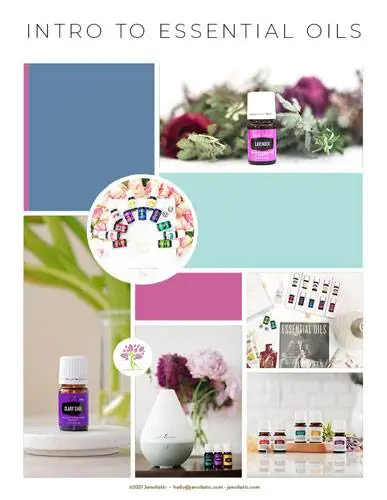 Want to learn about essential oils and how to get started? Grab this free basic PDF.