It's a new year and I signed up with a few of the 'reorganize your life' groups. The main one being this: 52 Weeks to An Organized Home. So I have been getting organized, well-making headway anyway, I'm just so scattered brained! I think I have 3 projects open right now and am also trying to plan my daughter's 10th birthday party on top of all those! So for some reason with 3 other projects open I get the itch to fix my baking cabinet this morning. As long as you are going forward who cares what order right?? lol
If you have food allergies like me you also probably have a cabinet with 40 different flours and all kinds of different additives you never had any idea existed till you started baking from scratch. It's probably been about 2 years since I clean out this cabinet and boy did it need it! It became the stuff it and close the door quick cabinet… then hope that no one tried to open it cause you know something is coming down on their head.
So here is my before:
So what I did is take EVERYTHING out of the cabinet. It's a pain I know but it's the only way to truly organize. I seriously had all this crap all over all my countertops. I took a step back and went how the hell was all this crammed into that cabinet….no wonder why I couldn't find anything! It's also a good way to get rid of items that are out of code or that you haven't used in a year. Because seriously if you haven't made that gluten-free bread mix that you bought 3 years ago and it's now out of code, you really need to toss it! and yes I had a few of those.
Here is an in-between shot with only a quarter of the stuff I took out.
So the next thing I did was look at all the packages I had. I knew I had to get them in like containers to make it nice, neat and easy to find everything. I would have loved to fill them all with the OXO containers but well I didn't have $300 to spend so I went with the next best thing, Mason Jars and other containers I had around.
Most of the flours went into the mason jars, it's hard to tell in the pic… but they fit 3 deep in my cabinet. It's so much easier to dig through these then the half-open limp packages that were spilling all over. There are actually more flours in my fridge too! For the top shelf, I found 3 bins at the Dollar Store that fit perfectly and hold cupcake papers, sprinkles, and cookie cutters. I still have to make signs for them. There are also matching little bins on the bottom that hold the food coloring and flavors (vanilla, peppermint extract etc).
I ended up using my new toy that I got for Christmas (a silhouette portrait) to make cut out vinyl labels for everything. I like them but the labels can be hard to read so next time I might just go back to my good ol' label maker and save like 2 hours 🙂
How are you doing on your 2015 reorganization??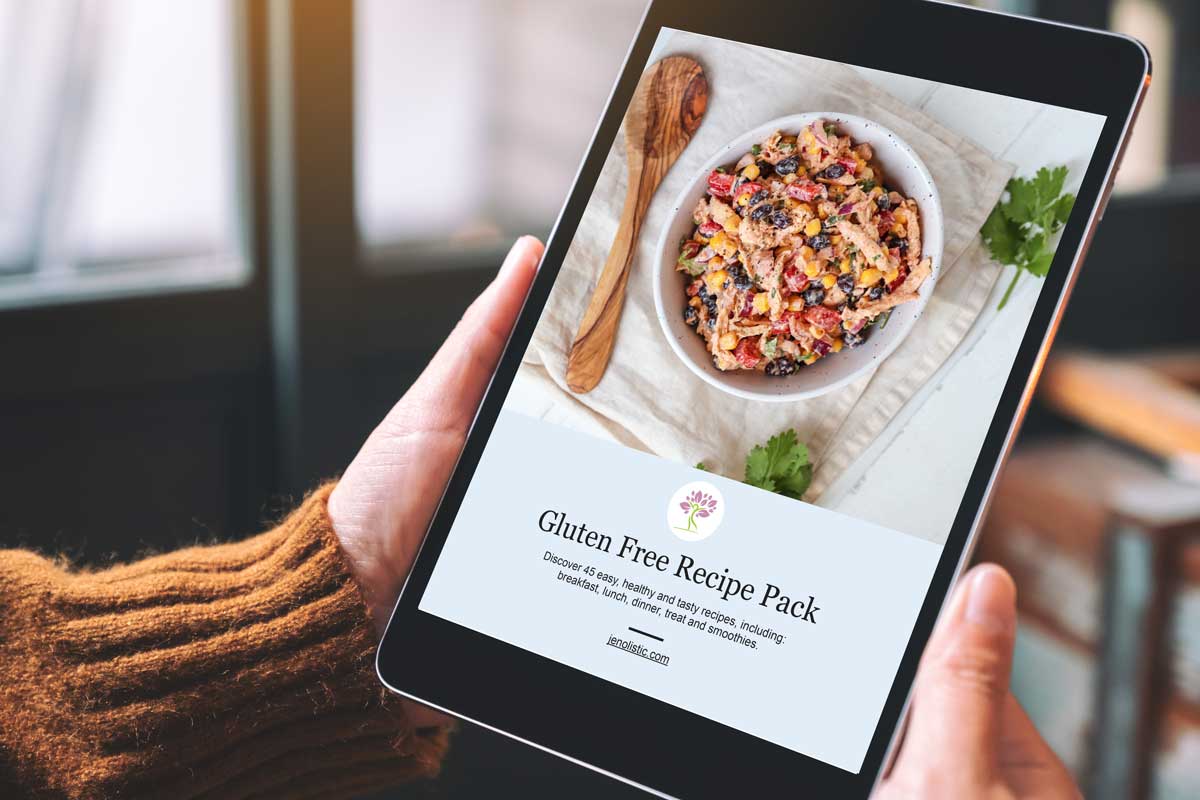 Grab your Free Gluten Free Recipe Pack
Discover 45 easy, healthy, and tasty recipes, including breakfast, lunch, dinner, treats and smoothies!