So every year we give my daughter a choice of having a party at one of those jumpy like places or have a sleep over at home… and each year she chooses the sleep over. So I always try to make it pretty special… especially since we save money by not going out!
This year she picked a Minecraft theme birthday party…. last year was My Little Pony party. We started out looking at cakes on Pintrest for ideas (click here for our idea board) and then sent them to my mom who graciously made the finished product. It turned out awesome as usual! The letters on top are actually cut vinyl from my new Silhouette that I got for Christmas (thanks hubby!!). The ice sword was printed out on photo paper, mounted to foam board and then tediously cut out. The kids had much fun playing with the sword after the cake was cut too! After trying numerous cake stand builds out of various dishes around the kitchen I decided to make one of thick foam board. I covered the foam board with a large print out of a Minecraft background I found on google. There is an upside down bowl between them to give them space.
I found this fabulous grass on Amazon for decoration (see it here). I bought 2 packages and it was enough to do the main counter, a little by the beverage dispenser and enough for the table centerpiece. I was really worried because I had seen a few posts where it didn't look that full but the trick is to crumble it up a bunch of times. The more you squish it the fuller it got. My sister loved it too, she is recycling it for her daughter's party next month that is a barn themed party.
As mentioned above, I got a vinyl cutter for Christmas so as one of my first projects I decided to make these cups as part of the kids favors. I love how they turned out and they were a great hit with the kids. The bonus…they had lids so we didn't have one spill for the entire party!! I made them using the Minecraft font that I got from dafont.com. I used this for the invitation as well.
To go with the cups I made some Creeper Juice, which was organic lemonade from Target with a little 7up and some blue/green dye. The kids thought it was great. I got this great dispenser with stand from Amazon as well. I had my eye on one of these for a while so it was a great excuse to get it with the gift card I got for Christmas.
Below is the centerpiece for the table. I used the grass again with some licorice wrapped with a TNT band and then, of course, the main piece was a creeper. The TNT boxes came from this site, which was a graphic that was printed, cut and glued.
I got some green treat boxes and just printed out a sticker to put on the front of each of them. Inside each had a few trinkets, including the little gold packages (photo below). These were rolos that I put in a little package and then stapled a header on that I printed. The little packages were made from the bags from my Food Saver, I just didn't vacuum seal them. Though my husband really wanted me to so he could see what would happen…lol.
I did have a few games planned but the only one we played was Minecraft Bingo, I got it from Etsy.
Just had to toss in this last pic.. anyone else have a son that is a photobomb expert?
As requested here is a PDF of the treat box labels.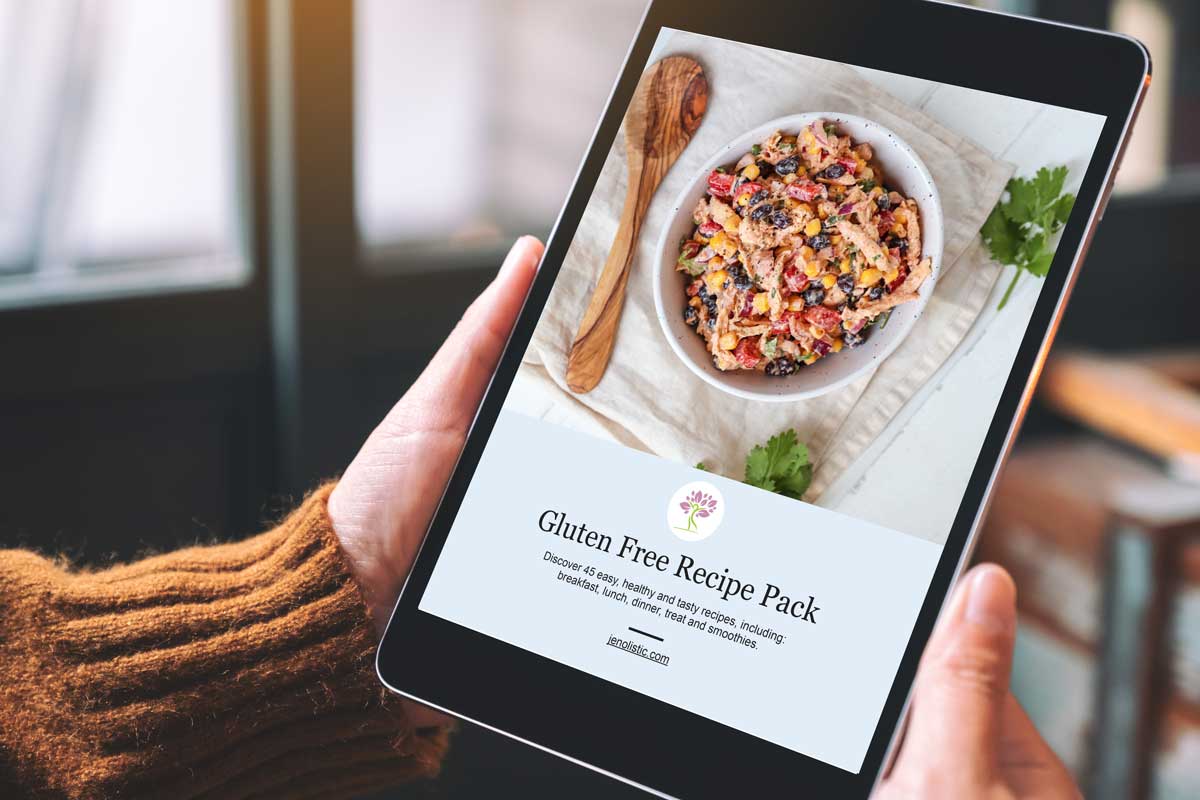 Grab your Free Gluten Free Recipe Pack
Discover 45 easy, healthy, and tasty recipes, including breakfast, lunch, dinner, treats and smoothies!