The past few years I have been hosting Thanksgiving dinner at my house. We have a large family so it ends up being around 30-40 over for dinner every year. Most would freak out about this but I LOVE it! Growing up we always had many family get-togethers and over the years they have grown in size. My mom has 5 brothers and sisters so she comes from a large and close family. I often think about having more kids so that my kids would be surrounded with family like I am. So now my mom's brothers and sisters have kids and their kids have kids so it becomes a full house that just always warms my heart. Growing up my parents always hosted Thanksgiving and Christmas eve so I've had a little practice over the years getting ready. Below are my tips for hosting Thanksgiving dinner for a large crowd.
Now I'm not always one to be able to keep a schedule but to keep sane this is how I try to stay on track. Make a schedule and plan as much as you can! This will keep your stress level down.
Month before
Start cleaning out the house and organizing. Key places should be:

Front closets – make space for everyone to hang their coats.
Tupperware bin – If you cook like my family you are going to have leftovers. Have a great selection of MATCHING bottoms and tops to choose from will make clean up a breeze. TIP: I also purchase holiday containers to send home with guests. I usually get small or medium sizes so that everyone can take something home.

Plan your menu!
Start shopping for the staples. Plates, napkins, silverware, etc. I don't have enough 'real' plates for a setting of 40 so I usually buy the clear crystal plates so they are a little nicer and not flimsy.
Have guests bring a dish. Our family gets together a lot so we try to take some of the stress off the host and we all just bring one thing, like a side or dessert. To help me keep track of who is bringing what I start a google spreadsheet. I then give out the link and let my guests see what others are bringing and then they can decide what they want to bring. It's also a great way to keep track of who is coming and who is bringing friends with. If you are brave you can give them an editable link to the google sheet so they can fill it out themselves but just beware you might get a joker that likes to put some unique items that they are bringing. Or your aunt will show her friend how neat this idea is and they will hijack it for their dinner planning…yup that happened one year 🙂
Weekend before
Clean out the fridge – and when I say this I mean take out everything and clean all the shelves and drawers. Get rid of everything you can to make space.
Create your main tablescape – I reserve the main dining room table for the 'older' generation and I like to really dress it up. Make a centerpiece that really feels like the holidays. Lights and candles are inexpensive ways to set the mood.
Make any appetizers that you can ahead of time and freeze them.
Make your desserts and cookies, but hide them well so your family doesn't eat them!
Makeup napkin/silverware 'packages'. I wrap the silverware with a napkin and then tie it with some curling ribbon. Hint: this is a great thing the kids can do to help!
Week of
Hire a cleaning service. Yes, this is a luxury that I indulge in. It's so nice to have a crew come in and have your whole house cleaned in a few hours. If you don't have a regular house cleaner check groupon.com or similar for a special. I started this a few years ago and I will never go back, I get to enjoy decorating and cooking instead of cleaning (which is dislike!)
If you bought a Frozen turkey be sure to start defrosting it a few DAYS ahead of time. I made the mistake once thinking my 16 lb turkey would defrost overnight. They take like 3-4 days!
Day before
Layout everything! Including serving spoons! There is nothing worse than having a kitchen full of people and having to dig through your drawer looking for just one more big spoon. I like to use sticky notes so I know what is going where.
Layout signs describing the dish. With a large crowd, it's usually easier to do buffet style. I like to make 'place cards' for the different dishes. I also put symbols on the cards for items that are gluten-free since my niece and I can't have wheat. It lets her know what she can eat without having to ask her mom for every dish.
Set all the tables. Get everything in place.
Other misc tips for hosting Thanksgiving for a large group
Use crockpots! These can be a real time saver. I usually serve some kind of soup and I try and make it the night before. I then put it in the crockpot and then put it in the fridge. Then that day I can plug it in and not worry about it.
Crockpot – part II — If possible have your guests bring their dishes in a crockpot. My aunt usually makes mashed potatoes and she brings it in a crockpot. It's so EASY to just plug it in and to worry about having to warm them up.
Use one of the new Kleenex disposable towel boxes. With that many people, your hand towels get drenched quickly and it's too hard to remember to go in the bathroom and change them out.
Make an oven schedule of when items should be put in/taken out.
Buy some jar gravy just in case you mess up making the good stuff.
Buy some cheap salt and pepper shakers and put them around all the tables. I only had a few the first couple years and then my sister and aunt both bought me turkey salt and pepper shakers that they found on clearance so now I have like 2 sets per table…lol
Make sure you get dressed and ready at least 2 hours before guests should be arriving. There is nothing worse than having a guest show up 30 minutes early and you haven't done your hair yet!
Make 2 turkeys! It's easier than finding one large turkey and then trying to cook that big thing. We usually cook one in the oven and then deep fry or grill the other one. That way both aren't taking up all your oven space.
Have a 'staging' area if possible. I clean out my laundry room and use the counter in there to store extra serving utensils and lids to containers that others bring. It's a good way to get them out of the kitchen and have less clutter.
Links to a few of the recipes I use for hosting to a large group:
So there are my tips, what tips do you guys have? Post them below!!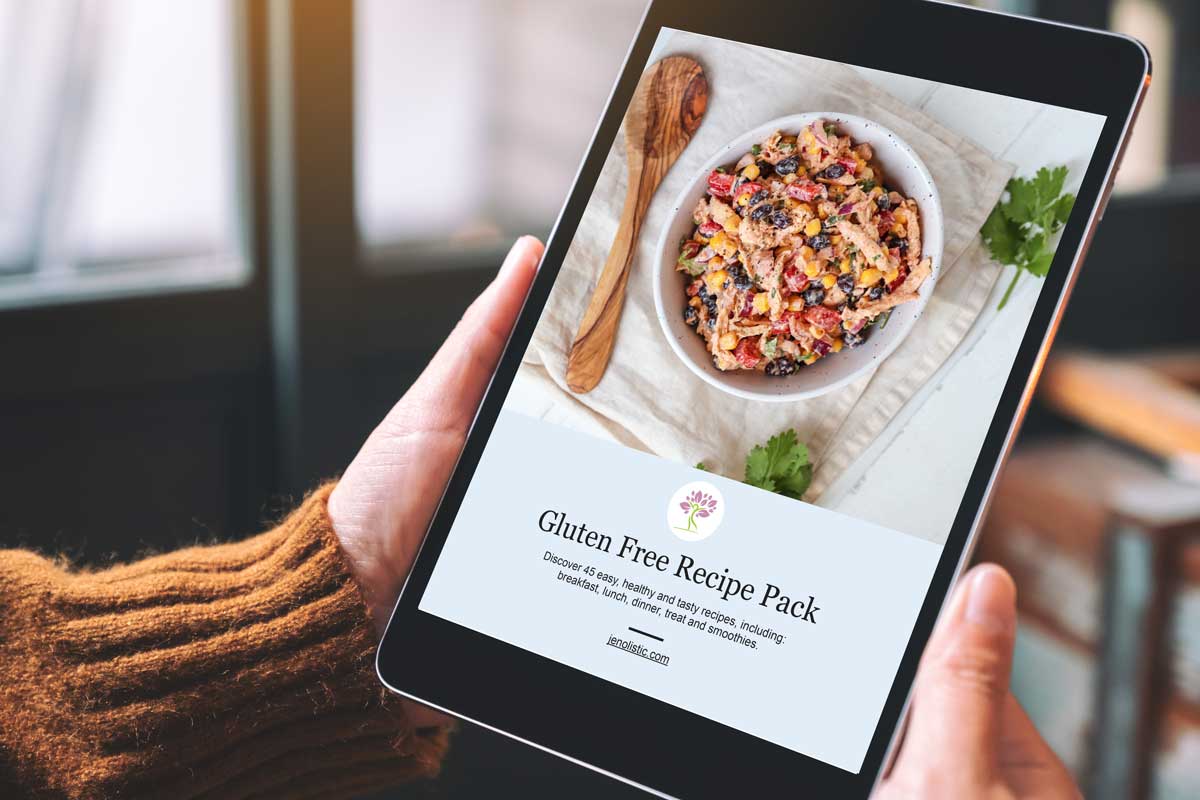 Grab your Free Gluten Free Recipe Pack
Discover 45 easy, healthy, and tasty recipes, including breakfast, lunch, dinner, treats and smoothies!