Woohoo the 2016 Gluten Free & Allergen Friendly Expo is just around the corner! This will be my 3rd year attending the show and I couldn't be more excited. Who doesn't love finding new delicious food that are gluten free!
My tip: come hungry! There were so many samples to try that I didn't have to stop for lunch. There was everything there from pizza to snacks to desserts. Also be sure to take photos or write down the names of all the good ones. I know I forgot the names of a few of my favorites from last year.
This year again I am honored to be one of the official bloggers for the event! I'm so excited to be able to give out some FREE one-day passes!!!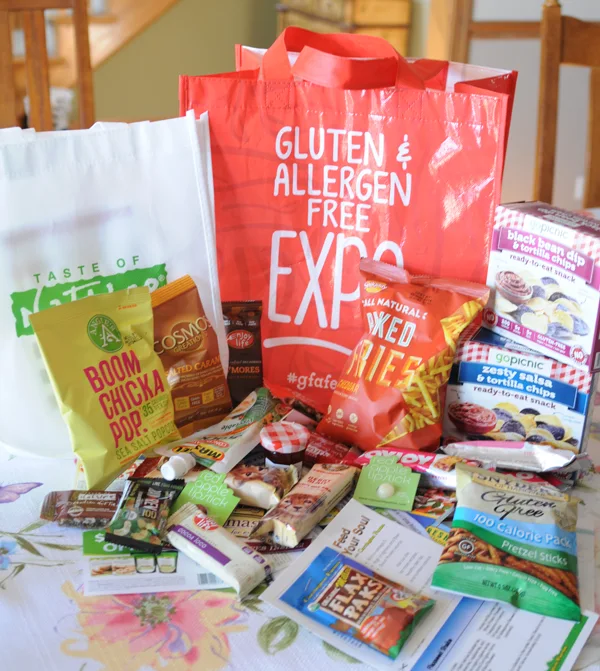 Gluten and Allergen Friendly Expo FREE Passes
Enter the giveaway below for your chance to win a FREE one-day pass to the Chicago Show. There will be multiple winners, each win a one-day pass.  Note this is just for admission to the Expo and no travel is included.
Want to make sure you get a ticket?
Use the code ADVANCE for 20% off through 5/13.
Purchase here –> http://bit.ly/gfafexpo
Get FREE samples, coupons & discounts from 100+ brands, FREE classes, a FREE goodie bag & a FREE 1-year subscription to Delight Gluten Free Magazine w/ advance online ticket purchase.
See you there!!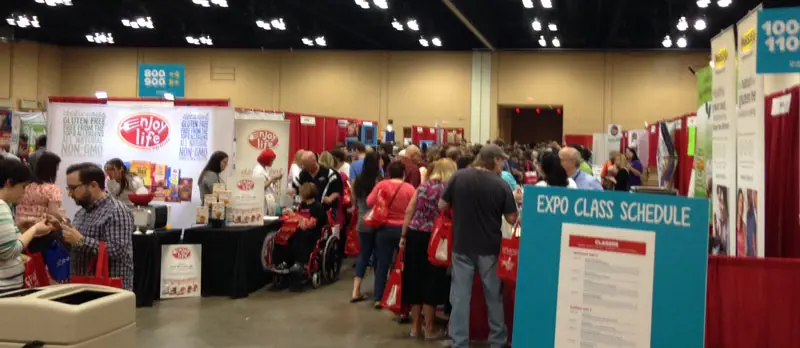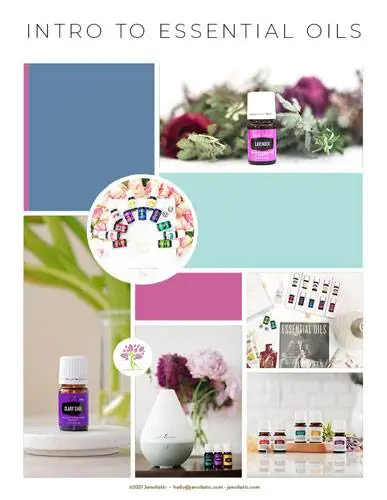 Want to learn about essential oils and how to get started? Grab this free basic PDF.
Dairy Free, Gluten Free Eggnog
**Read all the way to the end to get entered in a Christmas Giveaway!** Since going dairy and gluten-free, one of the things I have...
SANTA FE CHICKEN SALAD
https://youtu.be/IOFGru7YLts
Print
SANTA FE CHICKEN SALAD
---
Total Time:

35 minutes

Yield:

3

1

x
5

5

oz

skinless, boneless chicken breast

4

cups

mixed greens
.5 cup canned sweetcorn
.5 diced red onion (chopped)

1

cup

baby tomatoes (chopped)
.5 cup dates (chopped)

2

limes

1

avocado
Chicken Spice Rub
3/4 tsp

paprika

1/8 tsp

cayenne pepper

1/4 tsp

powdered garlic powder

1/4 tsp

powdered onion powder

1/4 tsp

dried thyme

1/4 tsp

ground allspice

1/8 tsp

salt and pepper
Dressing
2 tbsp

olive oil

2 tbsp

freshly squeezed lime juice

2 tsp

honey or agave

1

garlic clove (crushed)

1 tbsp

chopped coriander leaf
pinch Salt & Pepper
---
Instructions
Preheat the BBQ grill. 
Mix the chicken rub spices together in a small bowl. Rub on both sides of the chicken breasts with a spoon or with your hands. 
Place the chicken on the grill for 5-8 minutes on each side. The chicken is done when the internal temperature reaches 165°F (75°C).
While the chicken is cooking put 2 cups of greens into two separate bowls. Chop the onion, dates and baby tomatoes and divide equally into each bowl. Drain and rinse the sweetcorn from the can and measure out ¼ cup for each bowl. 
Slice the avocado in half, remove the pit, peel off skin and slice. Cut the lime in ½ and squeeze the juice onto the avocados to stop them from browning.
To make the dressing, finely chop the coriander and garlic. Juice the limes to measure out ⅛ of a cup. Mix the oil, lime juice, garlic, coriander and honey, and season to taste with salt and pepper.
Slice the cooked chicken and place on top of the salad. Pour the dressing over the two bowls. Serve immediately with an extra lime wedge and some fresh coriander. 
Prep Time:

20 minutes

Cook Time:

15 minutes

Category:

dinner, lunch, Salad
Making pancakes healthy and fun!
Next Sunday morning try out these healthy and fun natural color pancakes. So easy!
Print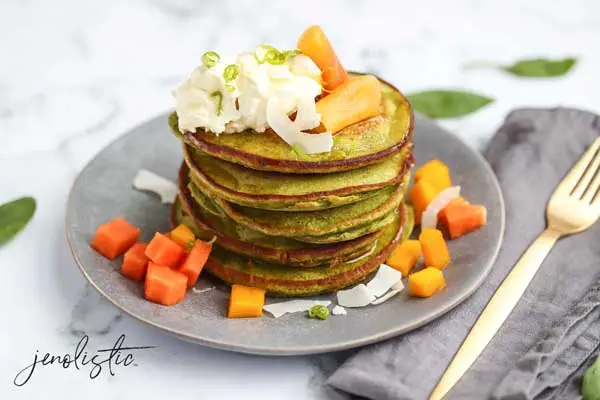 Healthy Green Pancakes
---
1 3/4

cups

Almond Milk (or any milk of your choice)

1

egg

1

ripe banana, coarsely chopped

3

oz

spinach

2

cups

self-rising flour (I used Namaste)

1/4

cup

coconut sugar

1/4 tsp

baking soda

2 tbsp

coconut oil, melted

1/4

cup

coconut yogurt to serve

1

cup

seasonal fruit, to serve
---
Instructions
Place the milk, egg, banana and spinach into a blender and blitz until smooth. 
Combine the flour, sugar and baking soda in a large bowl. Make a well in the centre, and add the smoothie mixture. Whisk until well combined and a smooth batter has formed. Cover and set aside for 30 minutes to rest. 
Heat a large non-stick frying pan over medium-low heat and brush it with a little coconut oil. Pour ¼ cup (60ml) of the batter into the pan, and cook for 1-2 minutes or until bubbles appear on the surface. Then flip the pancake and cook for a further 1 minute on the other side, or until lightly coloured. Repeat this process with the remaining batter to make 16 pancakes. 
Divide the pancakes among the serving plates (4 per serving). Top with yogurt and fruit to serve. 
Prep Time:

15 minutes

Cook Time:

10 minutes

Category:

Breakfast
Nutrition
Calories:

398

Fat:

4

Carbohydrates:

86

Fiber:

14

Protein:

7