So yes, I have been MIA this summer, busy schedules and overly full workload have kept me away. But blogging isn't the only thing I have been away from. I've also been away from meal planning and eating right and my body is very much so reminding me of that! The busy schedule has caused more stress, really bad 'grabbing whatever is around to eat' and just not maintaining a good diet, and that in turn has made me so tired, non-inspired, and just yucky feeling the past few weeks. So yep just like every junkie I have to hit bottom and then work in a new pattern to start getting healthy again. I've been reading a book called The Compound Effect (recommended by my upline) and it really talks about doing a little thing every day to make yourself better. That by doing little steps every day you will be more apt to keeping the new lifestyle versus making a drastic big change. Now she was recommending this book to me to help grow my business but I realized it was very relative to my health journey. When you have an auto-immune disease it's so important to keep doing little things every day to heal yourself. So here's to doing that again and to keep doing little steps every day!
I do have a new appliance that is helping me get back into cooking, the Instant Pot! Holy cow this thing is awesome! My cousin kept talking about his and then my aunt was raving about hers and then Amazon had an awesome deal on prime day so I couldn't help myself and I ordered one. Mine is a 7 in 1 and so it also does rice, which is so wonderful because I almost always burn my rice when making it.  So you will probably start seeing some Instant Pot posts now 🙂
Here is a really simple breakfast I made last Sunday, and the best part is that you can pretty much use anything you have in your fridge.
First I grabbed some eggs and some veggies that I had in the fridge along with some leftover bacon.
I scrabbled the eggs, tossed in some cut-up veggies and a little salt and pepper.
I took out some ramekins I had (love that I actually got to use these!), laid the bacon in, and then poured the egg mixture in. On my husband's I added some shredded cheddar cheese on top (I'm dairy-free so mine was plain). The ramekins that I used were the 4oz size, perfect for one egg each.
I put about 1 cup of water in the Instant Pot and then added the rack. Then placed the ramekins in there and set it on manual high pressure for 4 mins. Very important to remember to put in the water, if you don't they don't cook… trust me on this one 🙂 After the 4 minutes, I did a quick release.
So that was it, so simple and easy! If you wanted to you could finish them off in the broiler to brown the cheese. I loved the fact that with these you can just grab whatever is in your fridge and use up some of those good veggies.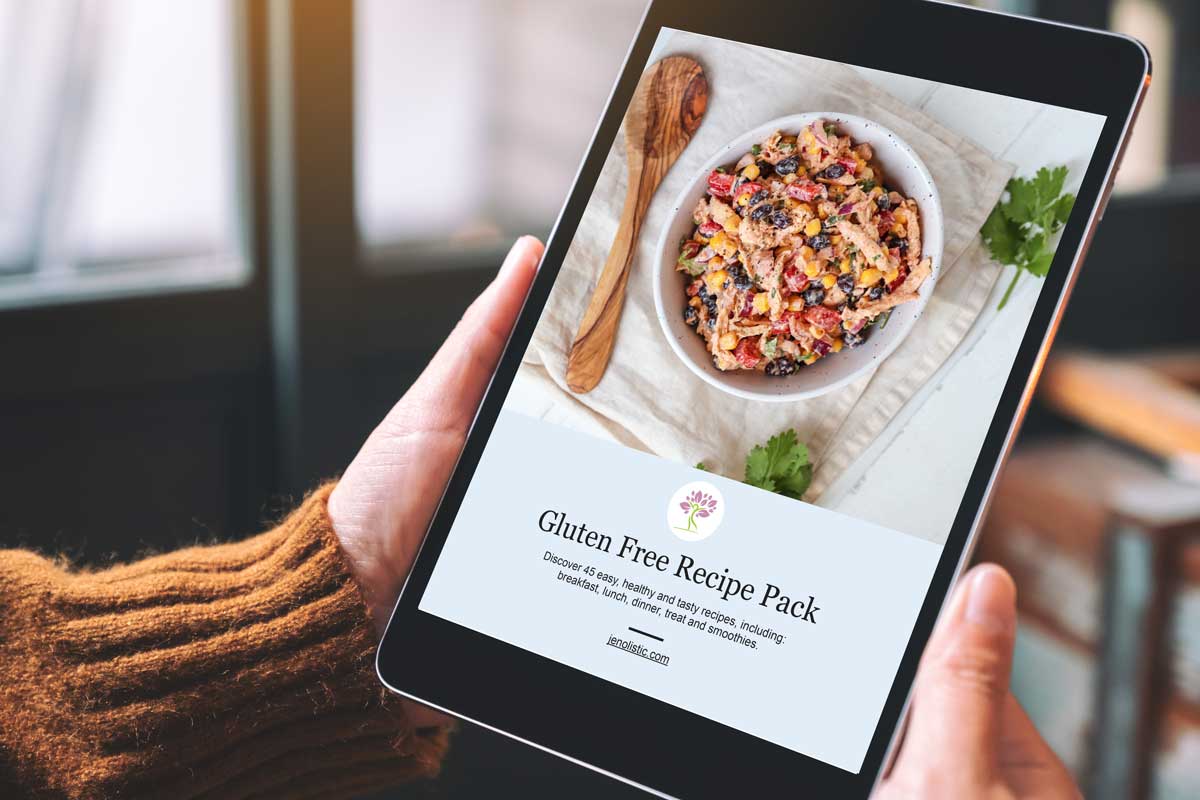 Grab your Free Gluten Free Recipe Pack
Discover 45 easy, healthy, and tasty recipes, including breakfast, lunch, dinner, treats and smoothies!