French-inspired Herb Container. So it's the dead of winter here and I can't wait any longer for spring and gardening season! Last year was the first year I had a herb garden in the back yard and it was wonderful for cooking. Anytime I needed something I just walked to the backyard to grab it. I decided I can't wait till spring for that again so I am going to try and grow some indoors! (and yes I know Onions are not a herb but I wanted to do those too).
Now since I am growing them indoors I wanted to make my pots a little prettier. I was cruising along Pinterest and I found some white pots that I just fell in love with. You can check out the inspiration on my pintrest garden board.
French-inspired Herb containers steps:
1. I started with 6″ terra cotta pots and one fancy pot that I had here. Paint the pots with a whitewash. I watered down my white acrylic paint to about 1/3 water, 2/3 paint then painted the pots. I wanted them a little imperfect and a little weather looking so the kids helped me with the base coat 🙂
2. I dabbed a little gray-blue paint on the bottom for some added detail and I also did the rim of the scarcer and the rim of the pot.
3. I printed out my decals as mirror images on a plain copy paper with my laser printer (PDF print out below). I trimmed along the design and then put mod podge on the printed side and placed them on the pots. It's a little hard to see in the photo but notice the outline of the paper.
4. Let them dry for at least 8 hours and then use a water down paper towel to take off the excess paper. I wetted my image and let it sit for a few minutes and then gently rubbed off the paper (kinda like you do with the kids temporary tattoos). You have to be VERY gentle, I got a little to anxious with my onion pot and it become a little more distressed than I wanted 😛
Overall I am very please with how these came out, I think they are darling! I don't plan on taking these outside but I might just spray the outside with a clear acrylic in case I decide to during the summer.
Click here for the PDF of the graphic I used.
If you need a different herb name just post below in the comments and I will do my best to get another PDF posted with the ones you need 🙂
Next up the indoor garden, I will be putting them in!! 
UPDATE: You should spray them with a clear coat. I didn't and now my dirt is seeping through and they aren't such a pretty white anymore.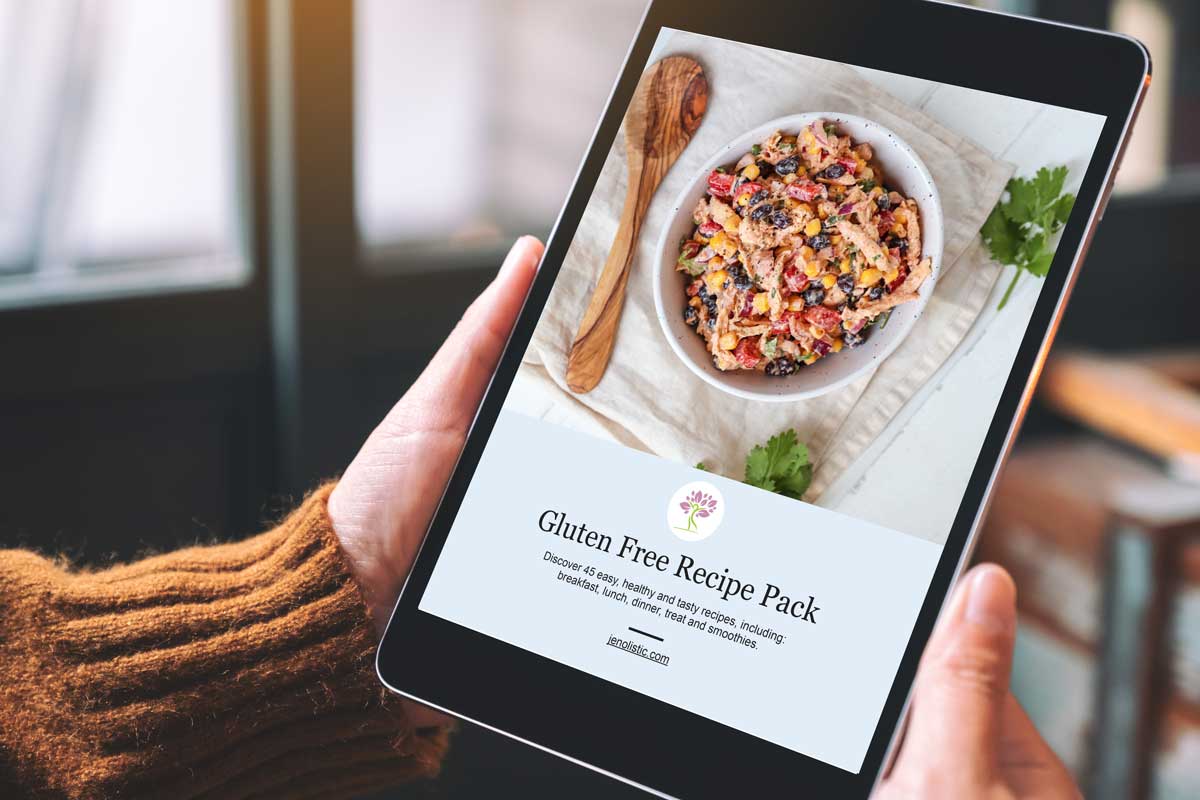 Grab your Free Gluten Free Recipe Pack
Discover 45 easy, healthy, and tasty recipes, including breakfast, lunch, dinner, treats and smoothies!