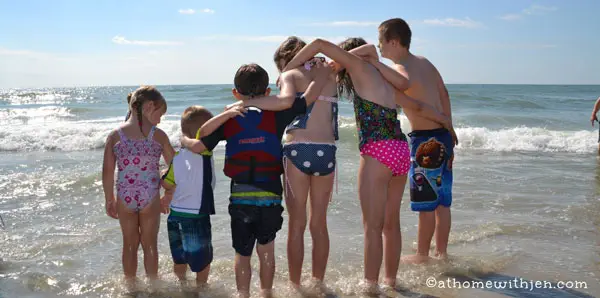 Ah summer vacation trips, so fun but so exhausting. As I write this we are in the car on our way back home after spending a week camping in Myrtle Beach. This will be a 14 hour car ride, my husband decided we were driving all the way through home and he doesn't stop unless the truck needs gas. So we are all tired, a little sun burned, very much stir crazy and so TIRED of sandwiches. I need to research some other food that we can bring that doesn't need heating. Any suggestions? Luckily I made some laptop desks (see here), packed some snacks and purchased a few more apps for the kids to do.
This trip we spent 2 days in Charleston and then 5 days in Myrtle Beach. So here is my review of what we did for our trip…
Lodging / Campgrounds:
In Charleston we stayed at the Charleston KOA. This was a nice stay, the pool was clean and the staff was friendly.  We do have a 38' fifth wheel so it was a bit tight but the pull-thru site was a great plus. We also sank a little as the site was a bit sandy, no concrete pad. The mobile home park next door was a bit of an eyesore.
In Myrtle Beach, we stayed at Ocean Lakes. I have mixed feelings about this place. This campground was huge! They had a mail-in express check-in so we really didn't talk to the staff. The campground is right on the ocean. We were about 20 spaces in so we couldn't see the ocean but it was a nice short walk to go to the beach. The big downfall to this place is the golf cart traffic and the lack of enforcing rules. Each night there was a parade of golf carts that went up and down the main oceanside road, the trouble we had is that they would use our road to fly down and head back to the main cruise road. We were with 2 other families, and we all have small children (ages 4-12), so we became the grumpy old people yelling to slow down. At one point we made a 'speed bump' out of glow sticks and surprising it worked! Getting in and out was a bit tight with our large set up, but doable. The other sad part of this is our neighbor's had some beer stolen out of their cooler one night and my husband had his shoes stolen when we were going for a night walk along the beach.
Activities in Charleston:
Patriots Point / Fort Sumter – This was a neat spot to tour some of our nation's history. Patriots Point has 3 main ships to explore; air carrier, submarine and destroyer as well as a few other items. As a family, we did have a little trouble on this day because it was so hot and our son with special needs doesn't do well in the heat. Two of the ships have no air and it was 95 that day. To visit Fort Sumter you take a boat from Patriots Point. This was a nice break from the heat since the boat had a section that was air-conditioned. It takes about 30 minutes to get to the island. Gluten-Free notes: there is a snack shop at Patriots Point but there are no Gluten Free Options. You would be better off bringing in a picnic lunch.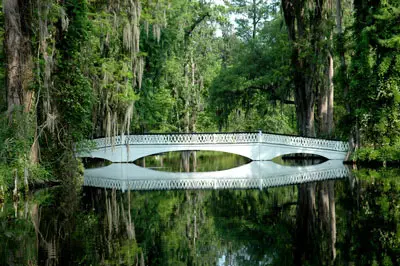 Magnolia Plantation – This place was beautiful!! This was a mom and daughter quick stop while my husband packed up the camper for Myrtle Beach. We took the nature tram ride which was a great overview of the park and we also got to see some animals, including the biggest spider I ever saw and a baby alligator. We had to sprint a little through the garden due to lack of time so this would definitely be something I would go back and check out again if we were ever back this way. I would also suggest bringing a good camera. We missed the Magnolia blooms by about 2 weeks so if you are going I would plan it when those are in bloom.
Activities in Myrtle Beach:
Broadway – This was our first full day at Myrtle Beach. The Boardwalk is a large 'touristy' mall-type attraction. There are tons of stores, places to eat, carnival games, Ripley's Aquarium (review below), and WonderWorks. Gluten-Free notes – We ate at Good Time Charlie and Margaritaville. Both had a nice gluten-free menu.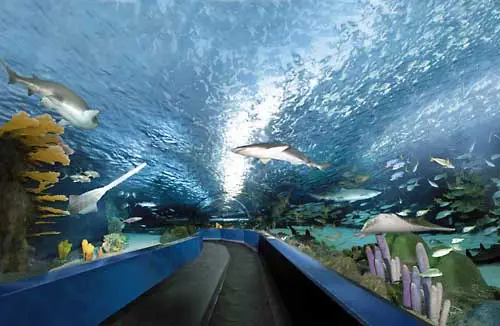 Ripley's Aquarium – This was definitely one of the best places we saw while we were on our trip. The walkthrough aquarium alone is worth a visit. My daughter (9) was in love with the mermaid show. I gave her the camera and she must have taken about 100 photos during that 14 min show. When we went during the day it was SUPER crowded which was a bummer but they have a special deal for their guests on nights that there are fireworks. They have a special deck they invite you to come back and view the fireworks on plus also give out pop and popcorn. So when we went back for the fireworks there was pretty much nobody in the aquarium so we got to go back and see a few things we missed before. So if you have older kids I would try and go later in the day.
Jet Ski Dolphin Tour – Now this was a bit of a pricey thing to do but so worth it! We rented 2 skis so we each had one child with us. The other families that we were camping with also came with, so there 6 skies plus our 2 tour guides. One would lead and the other would make sure we all stayed together. We cruised down the river into the ocean and unfortunately, our tour stopped right before we entered the main ocean due to a tropical storm coming in that was causing some pretty large waves. Now if we didn't have the kids with us I would have begged to take us anyway cause it looked like so much fun going over those large waves! But on the upside they did give us vouchers to go on a boat ride to be able to see the dolphins, we just ran out of time to do that. I was impressed with the guide we had, I think Dolton was his name. He was great with our kids, even gave my son a piggyback ride when he didn't want to step on the hot sand. Oh and well was nice on the eyes too if you know what I mean 🙂
Pirates Voyage – This was another fun adventure! There is a pre-show (photo below) that is just as good as the main show, it includes some 'circus' like acts as well as a really cute seal that comes out. The pre-show food is not part of the ticket so be sure to bring some extra cash to get your kids some cute mugs and a pail of popcorn. After about a 30 min pre-show you move on to the main area, which is more really cool stunts, acrobatics, seal tricks and some audience participation fun. This attraction was a little pricy but one I defiantly enjoyed.
Gluten-Free notes – The dinner that was served was a biscuit, soup, half a chicken, potato, pork, and corn. When reserving we were told the main dish was gluten-free just to pass on the biscuit, soup, and dessert. Well, there was a bit of confusion with the staff and even though I told my server 3 times that myself and niece were gluten-free she still plopped a biscuit on my plate and tried to give me soup. We were also told that we could bring our own food in so if you are highly allergic I would do that, the staff didn't seem to understand what gluten-free was.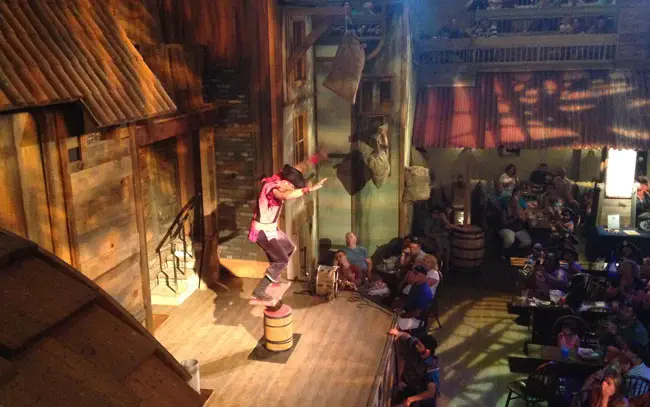 Overall it was a fun trip and I would probably go again! Any suggestions on where we should head next summer?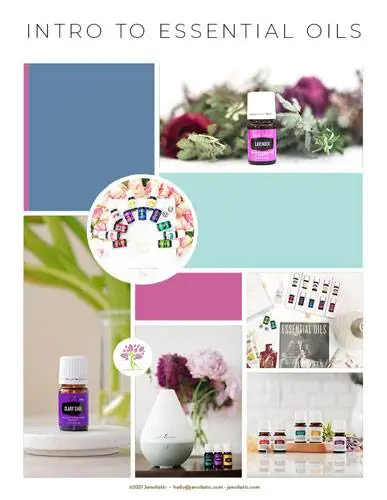 Want to learn about essential oils and how to get started? Grab this free basic PDF.