It seems that everyone these days is dealing with stress, anxiety, and depression. Fortunately, there are a lot of natural remedies for these conditions. One way is to use different essential oils! In this blog post, I will discuss the best essential oils for anxiety and stress.
There are many essential oil blends that can help with battling anxiety and stress here are just a few of the popular ones.
Which Essential Oils for Anxiety and Stress
are Best
?
Essential oils have been shown to enter the bloodstream when they are inhaled or applied topically. They can be diffused alone or in a combination of oils that team up to combat a specific problem, which in this case is stress and anxiety. 
Essential oils can be diluted with a carrier oil and applied to the feet before bed for a good nightís sleep without all-night worrying. Experiment to find the combination that you love and that brings you feelings of peace. Use any carrier oil that you like – whether it be almond, apricot, olive, coconut, avocado, or anything else you have on hand.
Although essential oils are helpful with anxiety and depression, if you have other issues, including medication or other standards of care that haven't worked for you, then it may be worth your time to see a doctor.
You will be well on your way to full emotional health and a less stressful life with the use of essential oils in combination with healthy lifestyle changes and guidance from someone who is experienced in integrating natural therapies into their therapy.
Here are my best essential oils for anxiety and stress:
Lavender
Lavender essential oil is one of the most well-known and accessible oils. It has several benefits, including its soothing properties, which make it effective against anxiety and should be included in everyone's oil collection.
German Chamomile
This variety of chamomile is good for relieving nervousness and promoting relaxation. German chamomile also has pain-relieving properties, as well as anti-inflammatory ones, so it can offer relief if you're feeling sick too. You can diffuse or apply this one topically.
Ylang Ylang
Ylang-ylang means "flower of flower" and probably because it smells pleasant, has mood-boosting qualities, and is good for lifting your spirits when they are low. Use it at the start of a day or before bed to help yourself feel better. I believe this one is best if diffused or use topically.
Frankincense
Frankincense has a timeless scent and can be used to bring feelings of peace, relaxation, and well-being. It is one of the more expensive oils, but may also be combined with other anti-anxiety essential oils. This is a powerhouse of oils and is great for diffusing or applying topically.
Lemon
This bright and cheerful aroma of lemon is a perfect fix for the anxiety and stress in your daily life. A Mie University study found that citrus fragrances boosted immunity, induced relaxation, and reduced depression. It's always nice to find something positive when you're having a bad day – and while people typically associate lemons with happy feelings, this scent will too. You can diffuse this or apply it topically. I also like to add this to my water for a detoxing effect. Note: only use oils that are noted for internal use and use glass.
Valor
Valor has to be my all-time favorite best essential oils for anxiety and stress, this is a blend created by Young Living Essential Oils. This oil blend features Frankincense, Black Spruce, Blue Tansy, Camphor Wood, and Geranium and was formulated based on historical information about Roman soldiers who were said to apply oils and botanicals to instill courage and confidence before battle. I like to apply this one topically on my wrists or to diffuse it.
Over the course of this post, we've explored just a few of the best essential oils for anxiety and stress. We also looked at how to use them. To make it even easier for you, I've put together a free ebook with all my favorite calming recipes and even more information that is perfect when you need help relieving tension.  Get the free eBook by signing up below now!
Purchase these oils here: https://www.myyl.com/jenolistic#bwm/stress-bundle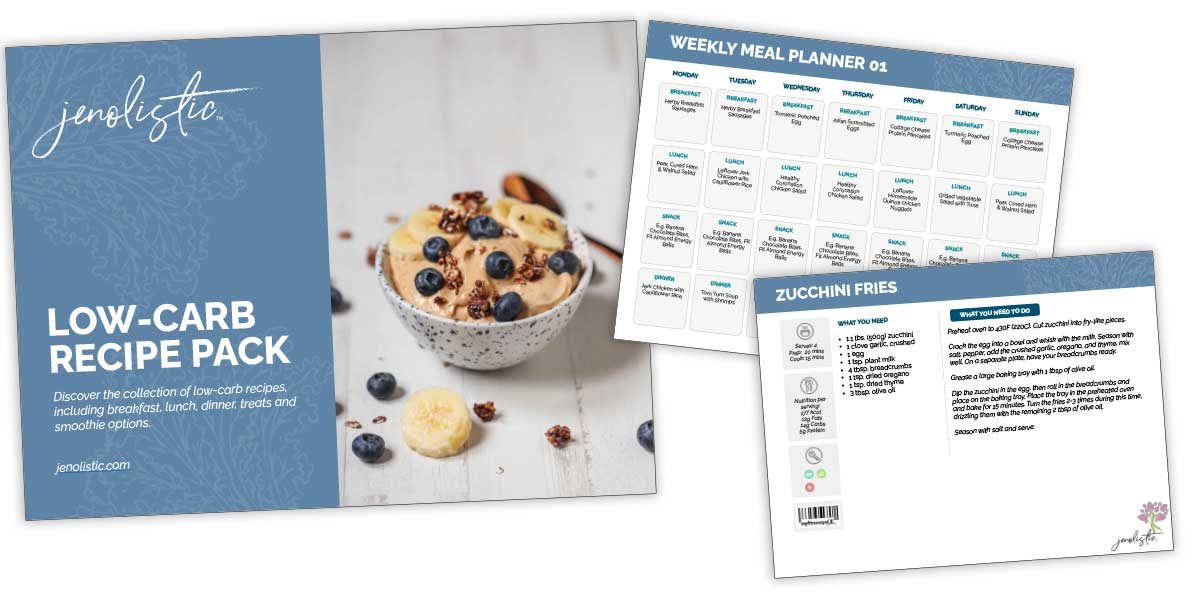 Free Meal Plan: 40+ healthy recipes, shopping list and meal plan